See the review from the pros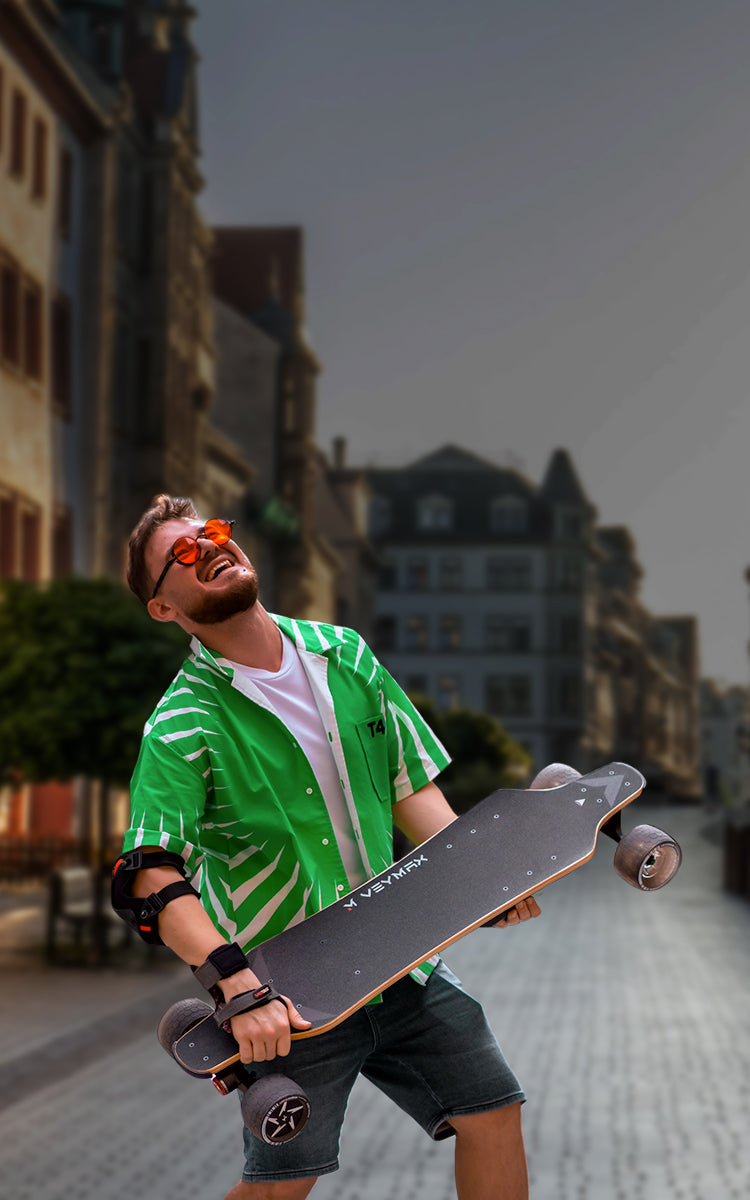 GET A NEW ELECTRIC SKATEBOARD
Starting Your Fun Journey
Embark on a fantastic adventure With Roadster remote control skateboard.
Powerful 2*550W hub motors with a 288Wh 8Ah battery up to 18 miles (28km) by charged , VEYMAX motorized longboard provides you an exceptional experience.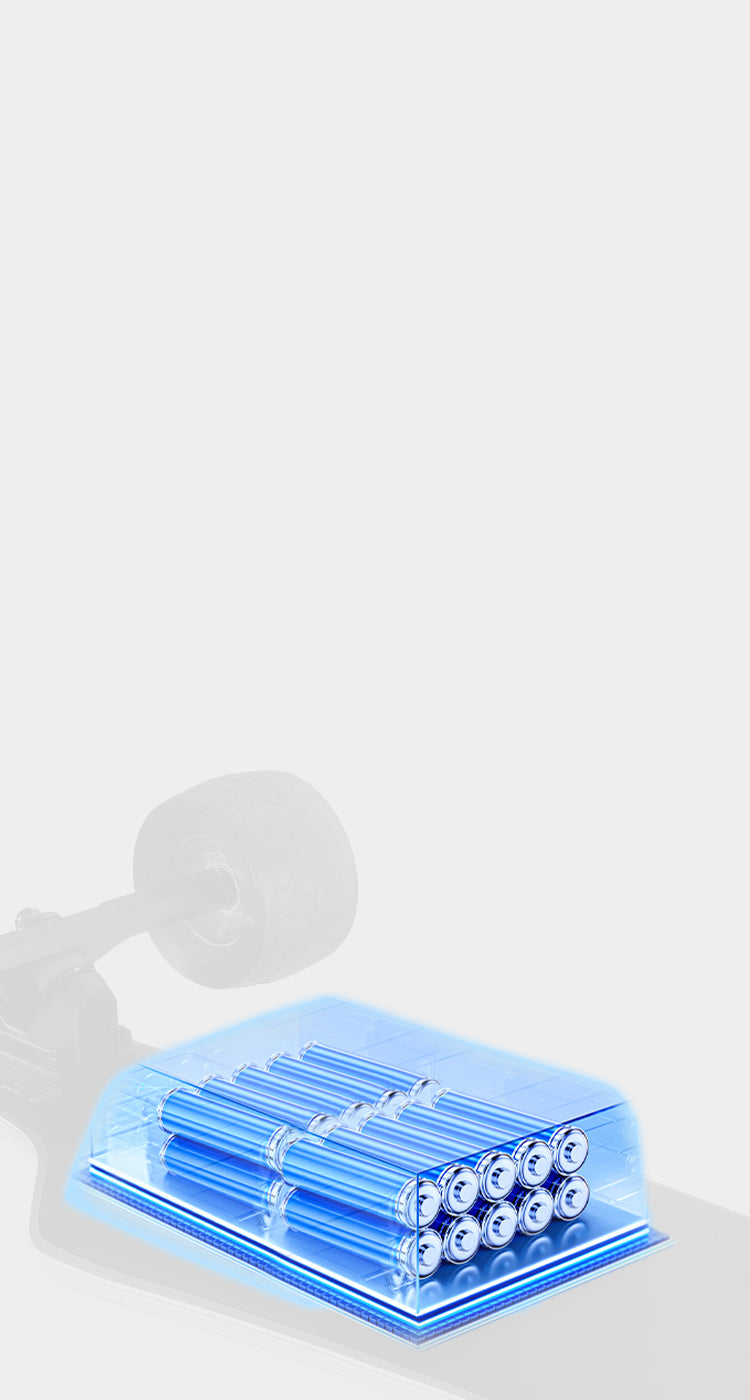 Why choose VEYMAX in its class?
Equipped with top-tier branded battery cells 18650 25P(For X4 version) and 21700 40T (For X4S version) , Roadster offers a long-range experience of up to 28km with its high-capacity 288WH 8Ah battery to ensure a long life expectancy and distinguished performance. No battery anxiety, take one of the best electric riding board for your daily commuting.
*The range can be affected by several factors like rider weight, incline, and riders levels, etc.
The longboard with remote equipped with powerful dual 550W motors driving your adventure, allowing to get an startling speed of 29Mph/46kph, smooth yet responsive performance is at the heart of this electric longboard. Whether for daily commutes or adventurous rides, this board satisfies your need for speed and thrills. Additionally, with the powerful performance, it can climb hills with up to a 30% gradient, easily conquer steep inclines.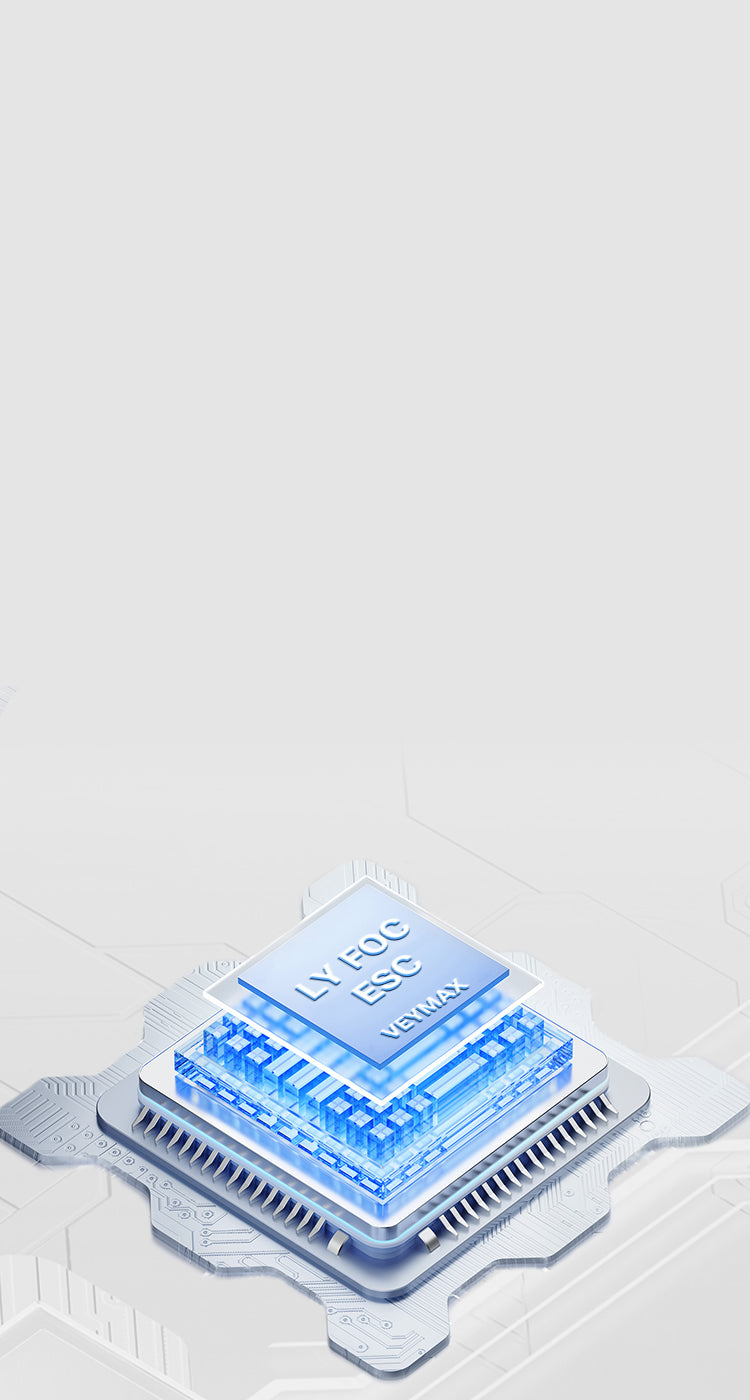 Electric Skateboard Remote
Updated LY-FOC 8.0 ESC
Introduced Bluetooth FOC control to the board, providing instant power with ultra-smooth acceleration and braking performance, adjust the parameters of ESC to your liking from 4 speed modes(Low/Medium/High/Pro) to meet your style, Real-time mileage and power are all at your fingertips. Smooth riding is beginner electric skateboard's best choice, granting ride precisely using the remote control longboard in your hands, no matter your skill level, Roadster X4 will let you have an exceptional experience.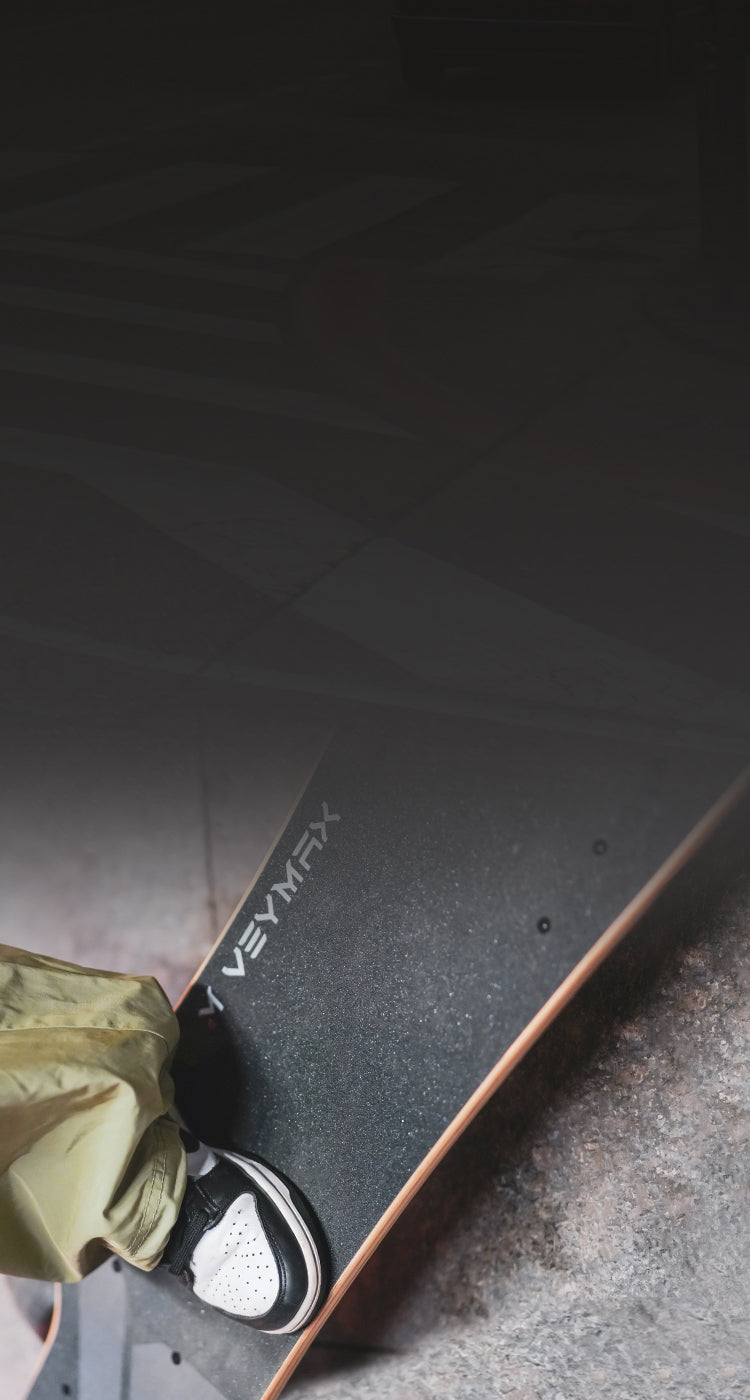 Comfortable Premium Deck
9.8" Widened Deck
Created a deck constructed from layered canadian maple and fiberglass is strong and flexible that can support up to max load 150kg/330lbs , comfortable widened deck with the 9.8" increased stability for your foot standing, making it beneficial for riders seeking a more stable and comfort deck. Customized guard has been equipped with your board, it can protect both ends of skateboard.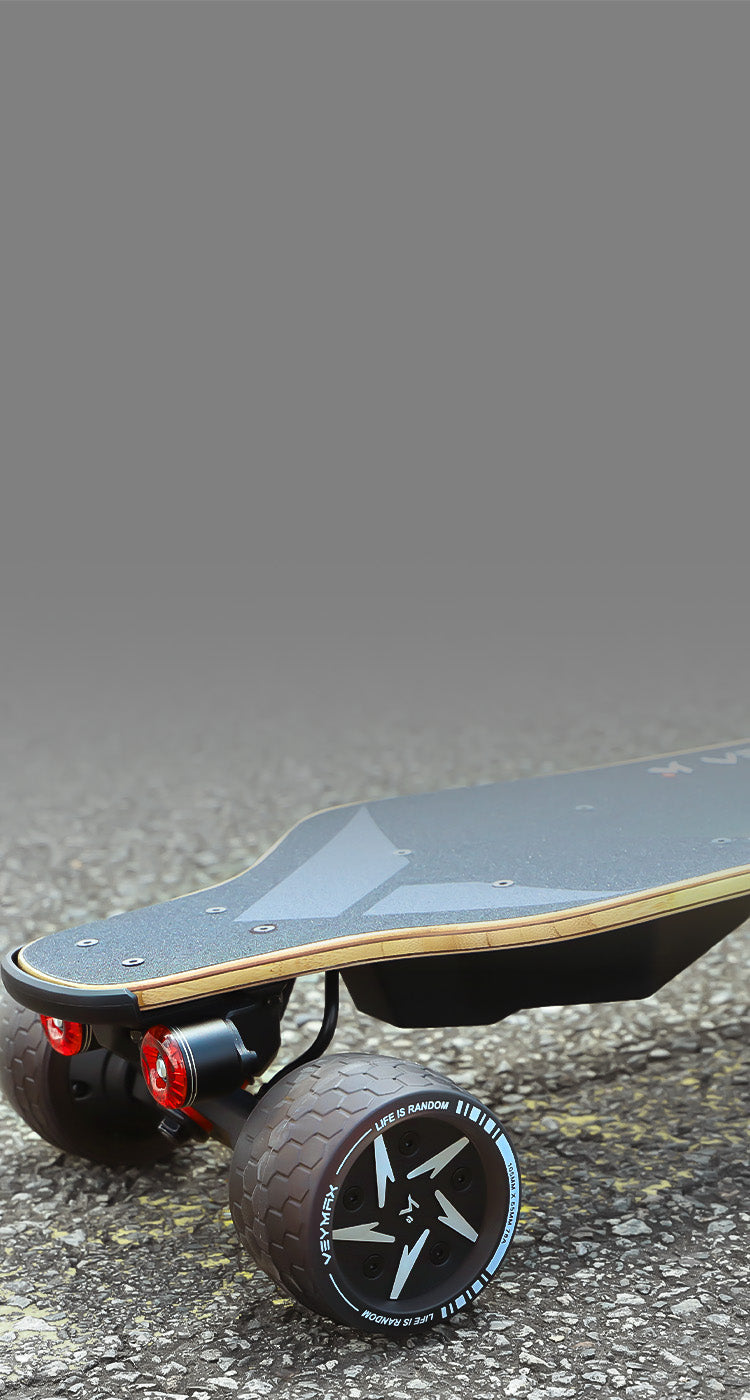 Excellent Shock Absorption
Large 105mm Jelly Wheels
With large 105mm jelly wheels, when you're bustling streets or gliding on city asphalt, just conquer obstacles with confidence, and the enhanced stability makes each ride comfortable and secure. Definitely,Roadster X4 electric skateboards with remote is the the most compatible electric skateboard for beginners.

Enhance Your safety
6 Modes Lights
Come with attractive red LED tail lights that illuminate your path and increase your safety with real time hazard lights when you apply the brakes. Meantime, 6 modes lights draw the eye when you riding on the night.
Whether you're cruising during the day or enjoying a night ride, the Roadster X4 powered longboard will escort you. Riding your best electric skateboard, Light up the life and be the captivating and unique rider.
| | | |
| --- | --- | --- |
| Model | ROADSTER X4 | ROADSTER X4s |
| Material | Canadian Maple + Fiberglass | Canadian Maple + Fiberglass |
| Speed Mode | 4 | 4 |
| Maximum Speed | 29Mph(46Km/h) | 29Mph(46Km/h) |
| Cruising Range | 13Miles(21Km) | 18Miles(28Km) |
| Cattery Capacity | 5Ah | 8Ah |
| Battery Voltage | 43.2V | 36V |
| Battery Power | 216Wh | 288Wh |
| Battery Brand | 18650 2500mAh | SAMSUNG 21700 40T |
| Battery Pack | 12S2P | 10S2P |
| Motor Power | 2x550W | 2x550W |
| Charging Time | 2.5h | 3.5h |
| Deck Length | 37.8in | 37.8in |
| Deck Width | 9.8in | 9.8in |
| Weight | 9.3kg/20.5lb | 9.3kg/20.5lb |
| Max Load | 330 Pounds | 330 Pounds |
| Wheel Size | 105x65mm | 105x65mm |
| Wheel Hardness | 78A | 78A |
| Wheel Material | Polyurethane | Polyurethane |
| Waterproof | IP55 | IP55 |
| Maximum Slope | 30% | 30% |
| Remote Display | LED | LED |
| Frequency | 2.4GHz | 2.4GHz |
| Remote Working Distance | 10m | 10m |
| Remote Battery Capacity | 400mAh | 400mAh |
| Remote Charging Time | 40min | 40min |
| Remote Charge Mode | Type-C | Type-C |
| ESC | LY-FOC | LY-FOC |
Veymax ROADSTER X4&X4S Electric Skateboard Manual
How do I apply my coupon code to my order?

a. Click "Add to cart"
b. Click check out and fill in your contact info and address, and you can add discount code at this page
Coupons can not be stacked. Only one coupon code can be used per order.
Coupons and promotional activities cannot be carried out at the same time.

When will the order be shipped?

It is the time elapsed between when the customer places the order and when the seller hands the order over to the delivery service. Order Processing Time: All orders take 1 to 3 business days to process, fill, and ship. Generally, orders are shipped within 3-10 working days of order confirmation/payment. Orders made on the weekends might experience delay. Our warehouse only operates on Monday – Friday during standard business hours, except on holidays. In these instances, we take steps to ensure shipment delays will be kept to a minimum.

Will I receive my tracking number?

You will receive an email when your order has been shipped. A tracking number will be provided (the tracking number will be active within 24 hours).

When your order ships you will receive a separate email providing you with a tracking number to track your order. You can also log into your account and click on the order in question to see the status.
Or:
You can this is a tool to track your order with the shipping number: https://veymax.com/pages/order-track *Please note that sometimes the tracking can take a day or two to be updated by the carrier. If it looks like it's not moving, chances are it's on its way!

The following are covered by the warranty: Veymax provides 6 months warranty for boards and 3 months warranty for parts (*when customers buy the parts separately) which starts from the day the package is delivered to customers. Long periods of unused (No reply to customer service) also count in a six-month warranty. Include: (1) Hub Motor (2) ESC (3) Battery (4) Remote (5) Charger The following are not covered by the warranty: 1. Warranty does not cover easy-broken parts: such as front wheels, decks, belts, Grip Tape, and PU Sleeves. (Except just delivered within 7 days) For more details, please refer to our Warranty Policy.

To turn the remote on, press the on/off button for 3 seconds, the LCD screen will display all functions and information. To turn the remote off, press and hold the on/off button for 3 seconds or until the screen turns off. Tips: Always turn the board on the 1st and the remote on the 2nd.

Ensure The Remote Pairing/Syncing

Your Veymax board and remote have already been paired /synced during the manufacture. Pairing/syncing a new remote of your board, please follow the below procedure: ① To turn the board on by pressing the power button on your Veymax board once. ② To turn the remote on by pressing the "ON/OFF" button on your remote. ③ If you have the old remote, please make sure it is turned off. ④ Hold the power button on your board for 7 seconds, until it blinks slowly. ⑤ At the same time, press the "ON/OFF button" and "function" buttons on your remote. ⑥ When the power button blinks rapidly and the remote displays all the function and information, it is indicated your board and remote have been paired and synced.

Do I need to charge the battery when I receive the board?

The new electric skateboard undergoes product testing before leaving the factory. When you receive the battery, it usually has around 95% of its capacity, so you don't have to immediately charge it. You can ride it first and charge it when the battery level drops to about one bar or 20-30% for optimal charging efficiency. Veymax electric skateboards are forbidden to be used with other models of chargers.

Where can I get support when my skateboard has issues?

If you encounter issues with your skateboard, here are several places where you can seek support: Website Customer Service Support: Email us at service@veymax.com, check out our FAQs, contact us via our chat and we will get back to you throughout the day (Monday - Friday 9:00 - 18:00 GMT+8). Social Media Accounts: Join online communities and forums where skateboard enthusiasts and professionals gather. Post your questions in relevant topic sections. Other members may share similar experiences and provide solutions. You can also visit the Veymax YouTube channel for product-related video tutorials and answers. Regardless of the support channel you choose, please ensure that you describe the issue clearly. This will help us better understand your situation and provide accurate assistance.

How to Install Anti-Collision Pads?

Use the T-shaped tool from the accessories to remove the trucks. Align the Anti-Collision Pads to the surface of the board, then place the trucks and tighten the screws in sequence.

How to Install Tail Lights?

Taillights are mounted above the trucks. Use the T-shaped tool from the accessories to unscrew the screws on the trucks. Differentiate between the left and right light stands. Cover the taillights on the trucks and tighten the screws in sequence.
This product is rated 4.9 of 5.0 stars.
It has received 21 reviews.