Whether you have to manage your daily commute or you're just having fun with your family, there's nothing better than an e-board. Electric skateboards for families are as unique as the families themselves. The choice you will make for yourself and your children will not be to modify a motorized skateboard. A family e-skateboard needs to cover the spectrum from kids to teenagers and even grandparents.
Obviously, a souped-up premium Electric Skateboard isn't necessarily the best choice for your third grader, just like your family minivan.
Instead, you can choose a family electric longboard based on your best judgment and intuition about what your child is ready for. When you feel confident in your child's ability to ride without having to pull out a first aid kit, it's time to start shopping for the basics. Here are some tips to help you get it right so you can get the whole family out in the fresh air.
Electric skateboards for teens and kids
You'll probably know when your child is ready to buy their first motorized skateboard. It may be a little early to start preschool, but a child with good balance and feet on the ground may be big enough to ride a throttle-only e-skateboard. The Veymax Nano electric skateboard has a board size of 28.7 x 10 inches and a weight of only 5.6 kg. It is a good choice for children. This skateboard is equipped with 2x200W motors and 21.6 4.2AH lithium-ion batteries, which is enough for kids. You may want to look for something a little gentler for your middle schooler.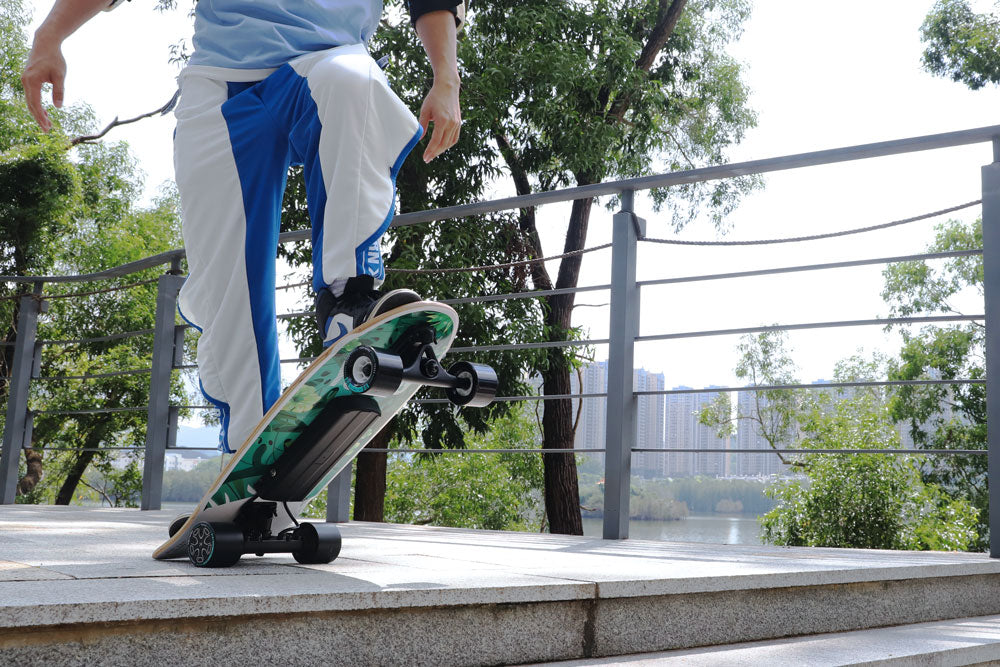 Older children tend to travel further from home, mainly to school and sometimes out with friends. The Veymax Cejour Series is perfect for your daily school commute. They make about as much power as a 15-year-old would feel comfortable riding, and they're affordable. This is an added bonus for families with kids who don't remember to bring their gym clothes home, let alone put their skateboards away.
The best electric skateboard for adults in the family
As an adult, you probably divide your days between the comfort of your home, the family you love, and the job you're forced to do to pay for the first two things on your list. An electric longboard for home is also available for you. After all, don't you deserve it?
For commuting, you're probably better off choosing a model that's efficient, roadworthy, and large enough for adults to ride. The Veymax Roadster X4 Series features a durable Canadian maple and fiberglass deck, as well as a set of 105mm shock-absorbing wheels, making it perfect for college students and office workers. It's portable and best of all, it can easily fit in a city apartment.
Looking for something suitable for off-road riding or tackling rough trails? A sturdy model with a powerful engine will be better for adult riders. All-terrain motorized skateboards fit the bill perfectly. Fat tire e-skateboards are great for older teens whose judgment you trust. After all, trail riders need something that can climb steep hills at breakfast and not run out of juice before lunch. The more rugged family electric skateboard models are actually an invitation for families to get off the proverbial beaten path and explore more of the world around them.
Choosing an electric skateboard for seniors and grandparents
Seniors have different requirements for an electric longboard than parents in their 30s or 40s. For one, there are large side panels for attaching flame decals and skull stickers, which is nice. Veymax Cejour Series has a convenient handle design, so the elderly can usually easily lift the skateboard and leave when climbing stairs and passing traffic lights. The skateboard also has a deck that provides stability, making it easier for seniors who lack experience with electric skateboards to learn to ride.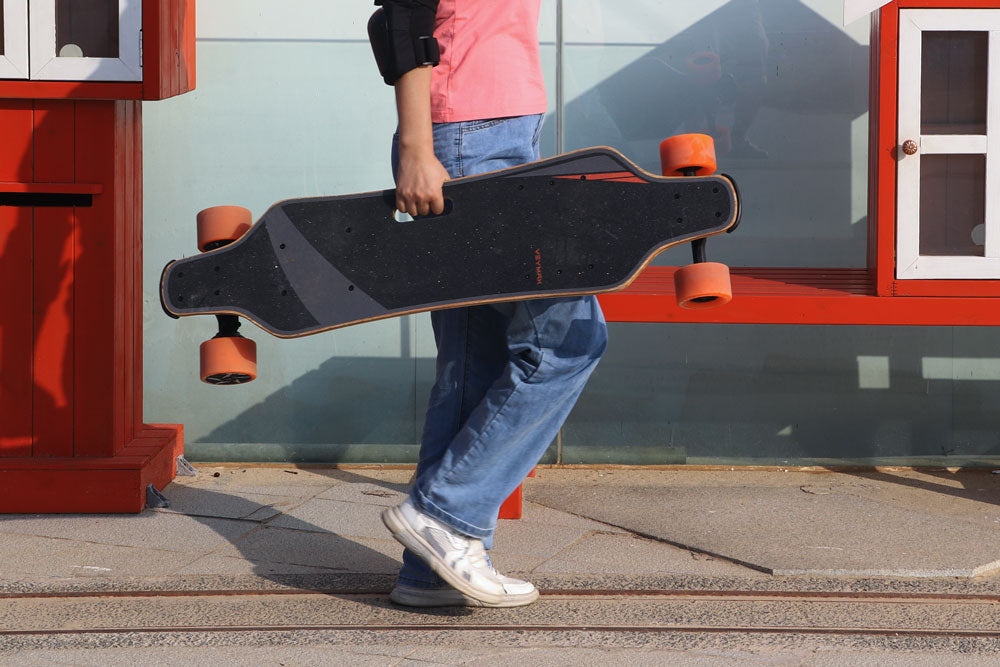 Okay, so you're busy, you have a job, the kids are a mess, you don't visit your parents as often as you should, and the yard looks terrible. Don't despair. You can still go out with your family sometimes. Don't delay any longer, take a look at Veymax Skateboard and pick up a set that everyone can enjoy together.