Are you looking for an Electric Skateboard that provides great performance without breaking the bank? Look no further than the Veymax Roadster X4. This board is the ultimate value-for-money option that does not compromise on performance.
Sleek look with an excellently stable deck
The Veymax Roadster X4 Series has a sleek and minimalistic look. The sturdy 37.8″ deck, not only makes it durable but also provides excellent stability while riding at high speeds.
The simple black grip tape on the top is both sleek and functional, ensuring you maintain traction on the deck so you don't have to worry about your feet slipping around.
Overall, the Veymax Roadster X4 Series is a good-looking electric skateboard.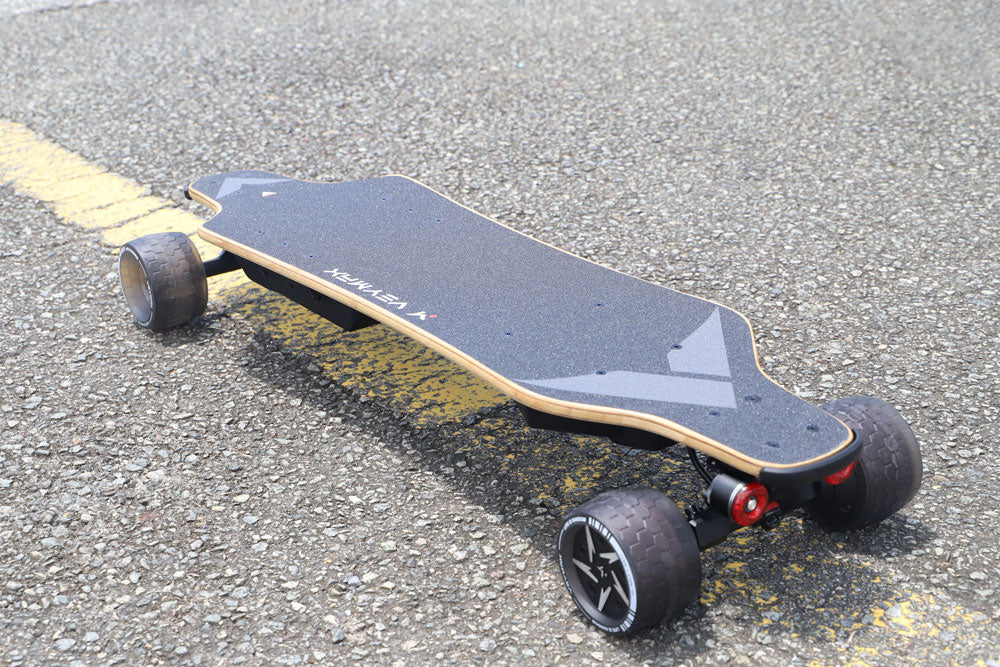 Superior performance with dual 550W hub motors
The Veymax Roadster X4 Series is equipped with dual 550W hub motors that pack some serious punch.
This board has 4 speed modes. It boasts a top speed of 29 mph (46 km/h), which is quite impressive for a board in this price range.
The hill climbing ability is also quite good with the Veymax Roadster X4 Series easily tackling inclines of up to 30% without breaking a sweat.
Affordable electric skateboard with excellent battery and range
One of the most important factors for any electric skateboard is the battery life and range.
The Veymax Roadster X4 comes with a 12S2P 216Wh battery, which promises a range of up to 13 miles (21 km) on a single charge. Factors like rider weight, wind, and temperature can affect the actual range greatly.
The eboard also features regenerative braking, which means that the battery gets charged whenever you brake, further extending the range. The charging time is about 2.5 hours, which is quite reasonable considering the battery capacity.
You also have the option to upgrade to a Veymax Roadster X4S battery which is a 10S2P 288Wh with 21700 cells and extends the range capability to 18 miles (28 km).
Veymax Roadster X4 Series is equipped with high-quality PP material anti-collision strips and a pair of taillights. This is not available in other brands of electric skateboards at the same price.
Anti-collision strips can effectively prevent your board from being damaged. The taillights provide a safety guarantee for riders who like to ride at night.
To celebrate the launch of the Veymax Roadster X4 series, VeyMax launched a $100 discount event. Buy the Veymax Roadster X4 right now for just $499 and the X4S for $559, which is pretty competitive considering the performance and build quality it offers.
It provides excellent value for money, especially for those looking for a high-performance electric skateboard without breaking the bank.
The Veymax Roadster X4 Series is a solid choice for both beginners and intermediate riders, offering a thrilling ride experience without compromising on comfort or safety.